If there isn't a bottle of witch hazel sitting pretty on your top shelf, we suggest you fix that ASAP. For centuries, the natural astringent has been used for everything from household cleaning to soothing a sore throat, and thanks to its anti-inflammatory and antioxidant properties, it can do pretty wonderful things for your skin, too. Use it to cleanse, tone, treat acne, combat oiliness, reduce dark circles, soothe razor burn, minimize stretch marks—the list goes on and on. Today, we're dishing on the best witch hazel toners so you can experience the skin-beautifying benefits for yourself. Using our proprietary algorithm which factors in best-selling buzz, editorial selections, and reviews from real skincare junkies, we've rounded up a list of the best witch hazel products on the market for giving you a balanced and refreshed complexion. Keep scrolling and stock up on this skincare superhero now.
One of the oldest beauty ingredients, witch hazel is a tried-and-true botanical extract that hails from flowering plants in the family Hamamelidaceae, also commonly known as the witch hazel family or winter bloom. It's a powerful oil-banisher and antioxidant and it boasts anti-inflammatory and antibacterial properties. Because witch hazel is a natural astringent (and not the icky kind), it's commonly formulated in toners for oily and acne-prone skin types, but it more recently has been making a cameo in a wider range of products, including exfoliators, face mists, and more.
Below, find some of our favorite witch hazel products starring this trusty ingredient.
Best Overall: Mario Badescu Witch Hazel & Rose Water Toner
With over 50 years in the beauty business, Mario Badescu products are beauty routine gold. One of our faves is this super-soothing toner. With an all-star combo of witch hazel, rose water, rose oil, and black rose, this is the perfect step right before applying a moisturizer. Because of its blend of hydrating ingredients, it doesn't strip the skin and doesn't leave you feeling tight. Instead, it's almost like a skin quencher. Apply to the entire face or just areas of concern with a cotton ball or cotton pad.
Now sans alcohol, this trusted toner is much milder than its predecessor. It's also hydrating thanks to the inclusion of moisture-boosting hyaluronic acid, so even those with severely dry skin can take advantage of the witch hazel in this product without irritation. Users particularly love how soft their skin feels immediately after application.
Made with aloe vera, this beauty staple hydrates while it clarifies, making it ideal for those with combination skin. Because it's infused with non-distilled witch hazel extract, more of the plant's natural astringent compounds, also known as tannins, are present. Depending on your preference, there are also different scents to choose from, like lavender, cucumber, rose petal, and unscented.
Excess oil and dead surface cells can clog pores and make them look more pronounced. To remove pore plugs, look to this toner formulated with hydroxy acids and witch hazel. The refining formula delves deep into pores to thoroughly purify them, in turn making them appear smaller. Users also love that it removed leftover makeup on their skin after cleansing. If you have combination skin, apply this toner on oilier areas only, such as the T-zone.
Read more reviews of the best drugstore toners available to purchase online.
With this handy spray, it's simple to master the midday refresh. Users love this fine mist for its sweet-smelling scent and its ability to deliver moisture effectively and quickly. When spritzed, the product works to eliminate excess oils and visibly tighten pores. Translation: This is perfect year-round, but especially during summer. Apply right before makeup to prep the skin and afterward for a healthy, luminous finish. What we love about this is how it revitalizes and awakens dull skin after a long day—just mist generously whenever you need a pick-me-up.
Slather this fluffy texture all over a moist face for luxurious and effective cleansing. While witch hazel does what it does best (getting rid of extra oil), a powerful combo of flower extracts refreshes and revitalizes, leaving your skin squeaky skin without feeling taut. The best part about this foam is its ability to minimize the look of pores. Users recommend pairing this formula with a cleansing brush for a truly thorough cleanse.
When you need a bit of hold for that perfectly tousled look, this light hair spray is exactly what you need. Flyways, static and even fridges are completely removed after spitting on the hair. Plus, the addition of witch hazel is even more beneficial. So if your scalp tends to be on the fussier side, this hair product is great to have in your arsenal.
Clogged pores are the worst. Clogged pores on your nose? Worse than the worst. Thankfully, this beauty hall-of-Famer from Biore can grab a hold of all that oil and debris and coax it all out. All you need for the deepest clean is 10 minutes out of the week. The super-sticky formula grabs onto everything—impurities, dirt, oil, and blackheads. The strips bind to all of these pore-cloggers, and when removed, takes them all out. Pores immediately look smaller and cleaner, with no damage to the skin whatsoever.
Best Natural: S.W. Basics Toner
With just five ingredients—yes, we are totally serious—this toner is as natural as it gets. Raw apple cider vinegar, witch hazel, clary sage essential oil, and sandalwood essential oil come together to clear, tone, and soothe skin for a healthy complexion. Because the formula is so potent, this toner is meant for those with acne-prone and oily skin. Users love the toner's ingredient transparency as well as the formula's effectiveness in clearing their blemishes.
Best Exfoliator: Sand & Sky Australian Pink Clay Flash Perfection Exfoliating Treatment
While we are, of course, obsessed with this cute pink tube, the Australian pink clay is another reason for our excitement. This exfoliating treatment, made with skin-loving ingredients like pink clay, witch hazel, bamboo, and rosehip oil, gives your skin a spa experience by sloughing away dead cells, detoxifying pores, and brightening the complexion. It successfully mattifies skin in five minutes—simply wet skin and massages the product onto your face for 30 seconds. Let the exfoliator sit for five minutes to allow the fruit acids to penetrate, then wash away. Immediately apply your serum as absorption is accelerated at this point.
Best for Sensitive Skin: Eczema Honey Premium Witch Hazel and Aloe Spray
Irritated, inflamed, and congested skin—meet your savior. Aloe vera juice gives a refreshing hydration boost, witch hazel calms swollen skin, and oatmeal extract soothes hot spots. Spray whenever your skin feels like it's on the fritz—after a workout, post-shave, before makeup and after application, or during a bad breakout. Users suggest putting this in the fridge overnight for a major ah feeling in the a.m.
Best Pore Minimizer: Korres Pomegranate Tonic Lotion
The 15% pomegranate water in this toner mattifies, purifies and detoxifies your pores. Using a cotton ball, swipe over areas of concern—especially at the T-zone—and let alpine willowherb and witch hazel extract remove traces of oil and impurities. Users find that their skin feels balanced and less greasy after continued use.
Best Peel Pads: Volition Beauty Apple Cider Vinegar Resurfacing Peel Pads
Retexturize your skin with a combo of apple cider vinegar, fruit acids, glycolic acids, and witch hazel. This facial-peel-in-a-pad is not only safe to use every day, but it's actually recommended to do so. After cleansing, simply slip two fingers into the pad and apply over the face and neck. There will be a slight tingling feeling, but this is normal. Users love how soft their skin feels the next morning after use, which sets the stage for their makeup application.
10. Quinn's alcohol-free witch hazel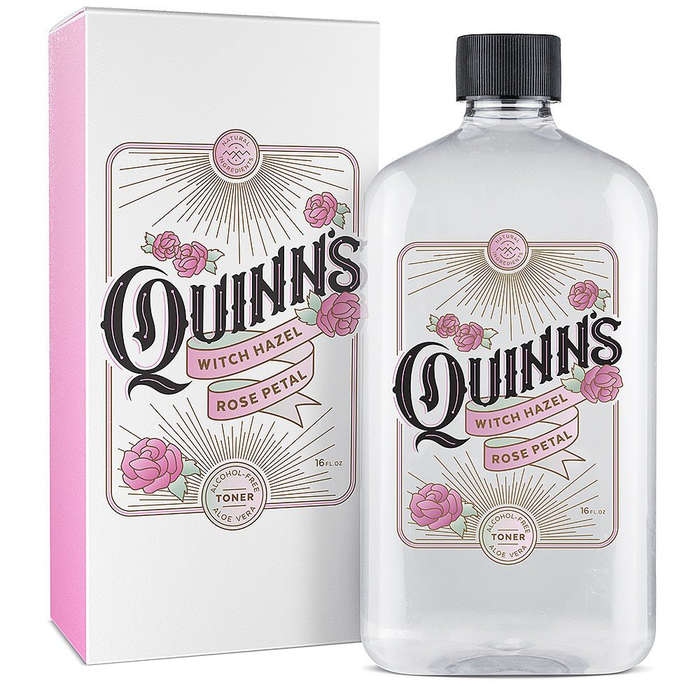 WHY YOU NEED IT: This $15 bottle of magic has been known to clear even the most stubborn cystic blemishes.
LOVED FOR: The sweet rosy scent
100% natural and organic
Alcohol-free
#9.
T.N. DICKINSON'S WITCH HAZEL ASTRINGENT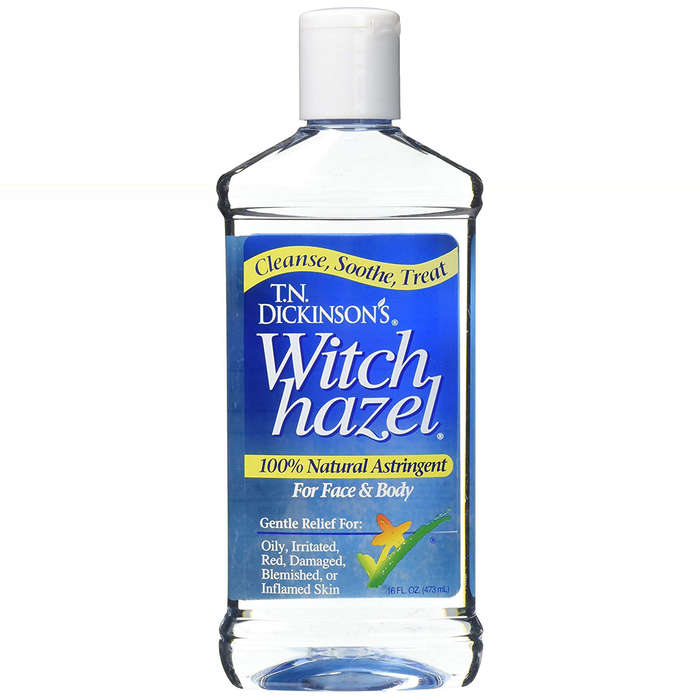 LOVED FOR: The natural and alcohol-free formula
USERS SAID: "I love this product! I spend A LOT of money on skin/face products and nothing has given me the results this thing has given me. My new favorite, must-have beauty product!"
#8.

MARIO BADESCU WITCH HAZEL & ROSEWATER TONER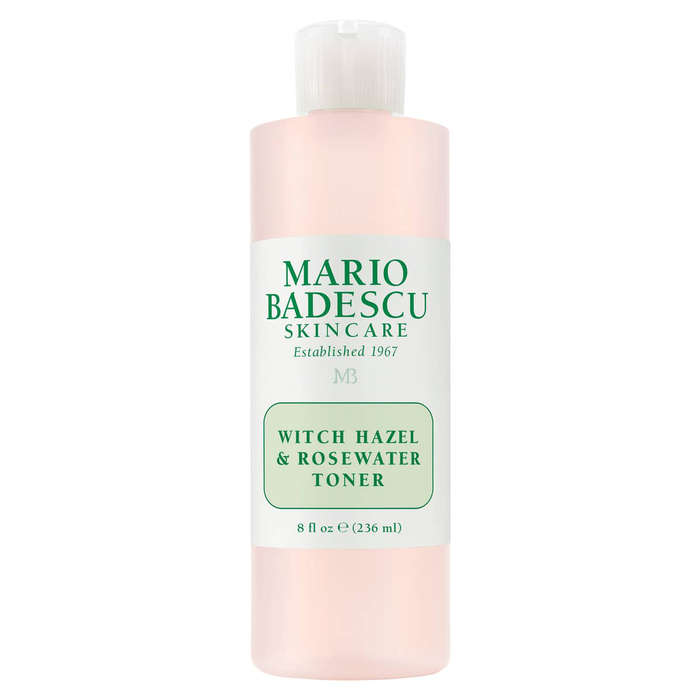 BEST FOR: A post-cleanse glow boost
HELPFUL TIP: This toner is excellent for sensitive skin!
Formulated with aloe vera, rosewater, and rose oil
Free of parabens and sulfates
#7. Boscia Rosewater Mist with Witch Hazel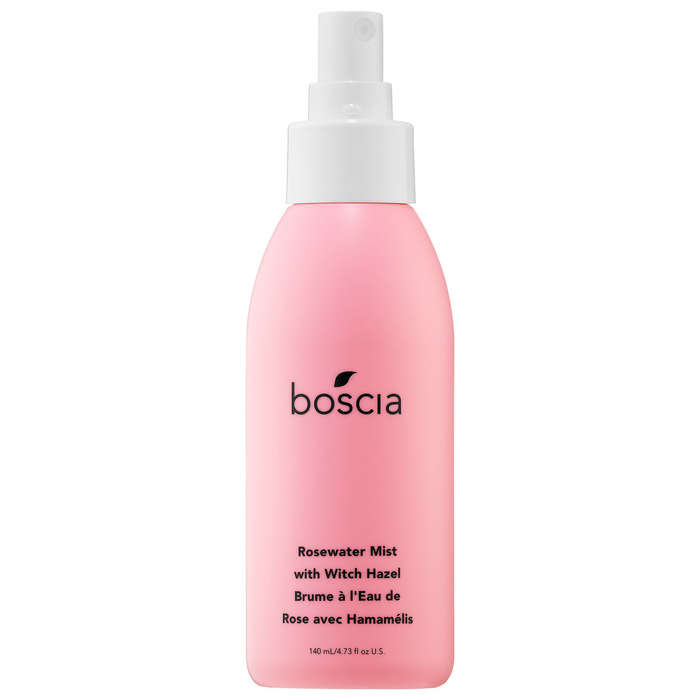 BEST FOR: A quick, dewy refresh for dull or tired skin
HELPFUL TIP: Spritz it on before makeup application to prep skin and after makeup application for a hydrating finish.
Alcohol-free
Formulated with jojoba leaf and willowherb
Dermatologist tested
#6.

BELIEF WITCH HAZEL HERBAL EXTRACT TONER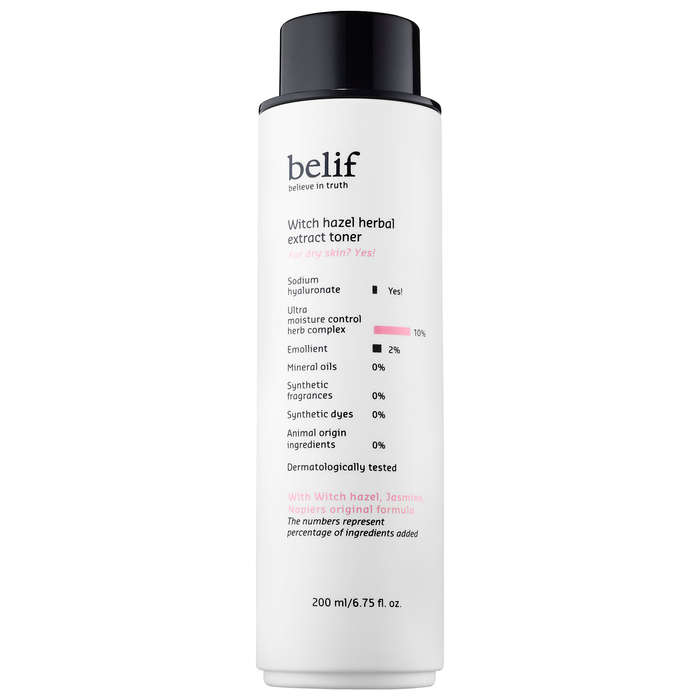 BEST FOR: Hydrating and clarifying skin after cleansing
USERS SAID: "I have suffered from cystic acne on and off for 25 years. I have tried everything under the sun including products 2-3 times the cost of this. This is hands-down the best thing I have found for my particular skin."
Free of dyes, fragrances, sulfates, phthalates, and animal origin ingredients
Dermatologist tested
Welcome to Talking Top 10, a recurring series in which we feature the founders, CEOs, creators, and leaders who are shaking up their industries. Ahead, read our Q&A with jewelry and interior designer Nicola Bathie McLaughlin and keep scrolling to shop her Top 10 must-haves.Meet Nicola Bathie Mclaughlin—she was born in Johannesburg, South Africa, has lived in England and Michigan, and grew up in San Antonio, Texas. Nicola graduated from Texas Christian University in 2013, majoring in interior design. With a love for jewelry and the arts, an eye for design, and rooted with an entrepreneurial pursuit, Nicola developed the concept for her company. Nicola Bathie designs is a fusion of different style environments that allows her jewelry to fit an array of lifestyles. Her pieces are ever-evolving with the seasons and timeless at the same time, allowing every woman to feel as if her jewelry piece is a statement curated specifically for her. Follow Nicola on Instagram for more info, and be sure to check out Nicola Bathie Designs and McLaughlin Interiors.
#5. OLE HENRIKSEN

 GLOW2OH DARK SPOT TONER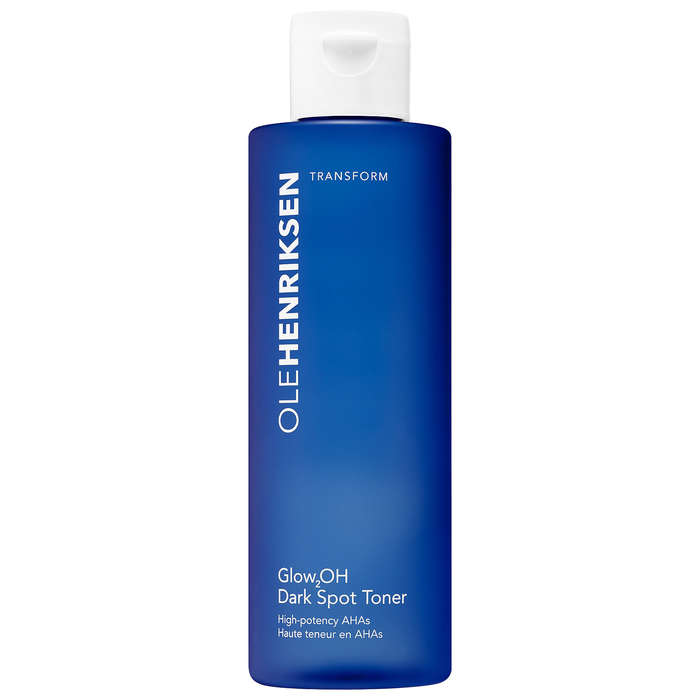 OLEHENRICKSEN GLOW2OH DARK SPOT TONER
BEST FOR: This skincare product is ideal for dry, combination, and oily skin types.
LOVED FOR: The yummy lemon sugar scent, tingling effectiveness, and brightening results
Formulated with glycolic and lactic acids
Infused with lemon, sugar cane, and chamomile
Free of sulfates and parabens
NEUTROGENA PORE REFINING TONER
, 
$7
BEST FOR This cleansing toner is ideal for all skin types.
WHAT IT DOES: Using a formula infused with witch hazel, alpha and beta hydroxy acids, this dermatologist-tested cleanser helps to reduce the look of pores while also smoothing dead surface skin and rough patches.
Formulated with witch hazel and alpha and beta hydroxy acids
Oil-free
#3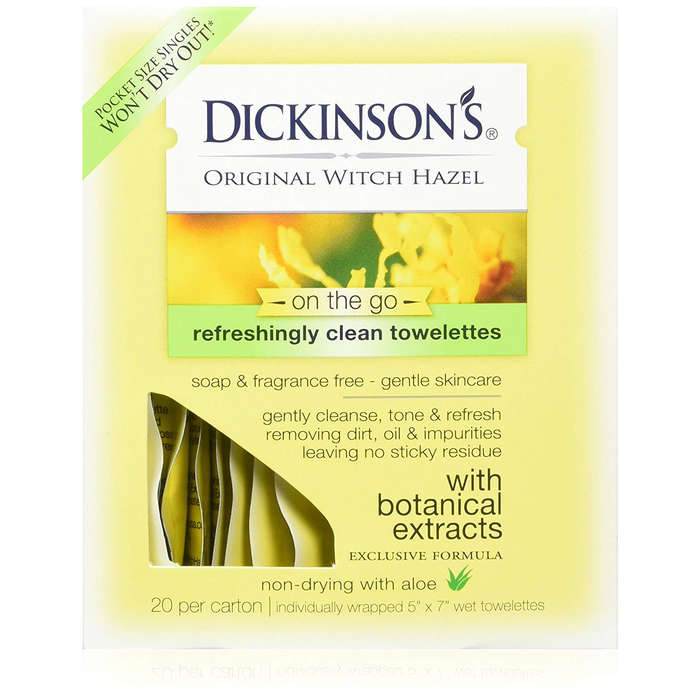 DICKINSON'S ORIGINAL WITCH HAZEL REFRESHINGLY CLEAN TOWELETTES
BEST FOR: These towelettes are perfect for travel—toss them in your purse for a quick pick-me-up when you're on the go.
HELPFUL TIP: Whip these babies out when you need to sooth post-flight skin, cleanse hands, and even remove heavy eye makeup.
Available in different variety packs
Free of soap and fragrance
Formulated with aloe
BEST FOR: Keeping skin perfectly balanced
HELPFUL TIP: With apple cider vinegar as a key ingredient, the smell can be overwhelming. Make sure to use with a great smelling moisturizer!
Formulated with apple cider vinegar and witch hazel
Alcohol-free
#1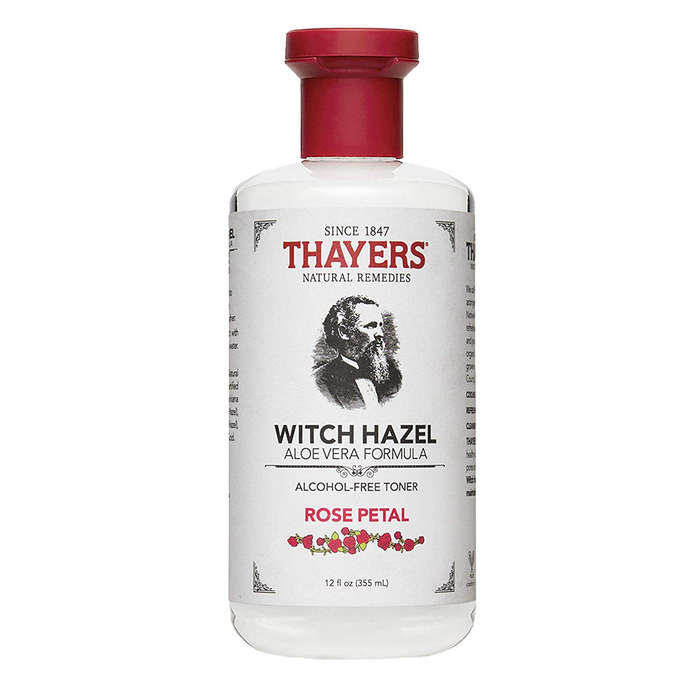 WHY YOU NEED IT: This cult-favorite toner has over 8,000 five-star reviews on Amazon, and it's also one of the cheapest toners on the market. You can thank us later.
USERS SAID: "This product stopped all of my cystic acne. Words cannot describe how much this has changed my life and improved my confidence. A natural way to clear skin!!!!"
Certified organic
Cruelty-free
Free of alcohol, parabens, and propylene glycol
1. Thayers Alcohol-free Unscented Witch Hazel Toner
Considered by many to be the holy grail of witch hazel, Dr. Najarian likes this alcohol-free formula, which does not dry out the skin and can be tolerated by people with sensitive skin. He also mentions that toner combines aloe, which makes it extra anti-inflammatory and works to cool and calm the skin. Apply it in all respects, from sunburns to bug bites, there is nothing it can handle.
2. Neutrogena Pore Refining Toner
"This toner contains a combination of alpha and beta hydroxy acids along with witch hazel to remove excess oil along with dead cells on the surface of the skin that make pores look more prominent," says Dr. Zeichner. Just wet a cotton ball or pad and gently smooth over your face in an upward motion. If you begin to experience any dryness or irritation, limit your usage.
3. Aveda Botanicals Kinetics Toning Mist
Another pick from Dr. Nazarian is a stronger option—with an alcohol base and other astringent ingredients—for those with oily or acne-prone skin. The refreshing, cooling peppermint mist replenishes moisture, restores the natural balance of the skin, and eliminates surface oil build-up. "I like that it comes in a spray form, which makes it easy to evenly apply a thin layer," says Dr. Nazarian. Spray ion your face, neck, and décolléte mornings and evenings after cleansing.
4. Clean & Clear Advantage Acne Spot Treatment
Breakouts giving you hell? This acne spot treatment combines salicylic acid with witch hazel to remove oil, dry out pimples, and calm inflammation, Dr. Zeichner says. It really works to penetrate pores and clear blemishes by quickly reducing the size, redness, and swelling of zits. Plus, the super portable packaging means you can pop it in your purse for easy travel and apply the spot treatment whenever you feel a pimple cropping up.
5. Quinn's Alcohol-Free Witch Hazel
Dr. Jaliman's is a fan of this witch hazel by Quinn's, which is similar to Thayers except that as an added bonus you'll smell like a bouquet of roses after one use. It's alcohol-free (won't dry out skin) and boasts aloe to cool and soothe even tricky, sensitive skin. The formula is anti-inflammatory to rid redness in a pinch and is naturally scented with luxurious rose petals so skin smells sweet and fresh.
6. Clarins Toning Lotion with Iris
Another favorite of Dr. Tichenor's, this gentle, alcohol-free toner combines witch hazel with various botanical extracts to soothe the skin while removing excess oil. After cleansing, soak two cotton pads with the toning lotion and smooth over your face and neck.