Do you know about a 3-year-old who has some ideas of their own? At the age of 3 kids can speak in full sentences and thus are old enough to let you know if they like something. And they want to get their favorite fun toys from their parents, that's why we have selected the 21 best toys, for 3-year-old boys and girls, according to child-development experts. Here you will find the perfect and the best toys for 3-year-olds, including bouncy houses, and board games, that allow for role-playing and development of social skills with help to increase their imagination growth.
If you are looking for the best gifts for 3-year-olds to play with their existing strengths, that'll help them to develop and master new ones. That's why this article will help you to find all kinds of fun choices for 3-year-olds who want to explore, create, and figure things out,"
The Best Toys For 3-Year-Old Boys According To Child-Development Experts In 2022
Three-year-olds are getting to be more social and have ideas of their own," said Tovah Klein, director of the Barnard College Center for Toddler Development and author of "How Toddlers Thrive." "Open-ended toys such as blocks and building toys allow them to explore and discover and carry out their ideas." They are deep in the "I'll do it myself" phase, so they enjoy things that help them master the fine motor skills that might help them dress.
1. Educational Insights First Memory & Matching Game For Toddlers
2. Fisher-Price Code 'n Learn Kinderbot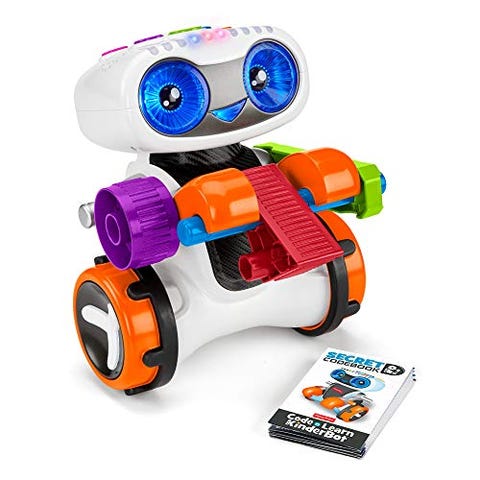 Ages 3+
Kinderbot will keep your 3-year-old boy entertained with cool lighting effects and fun phrases about colors and shapes. As he grows with Kinderbot, he can also learn to "program" the bot to perform certain movements by entering secret button "codes." Kinderbot teaches early math concepts, colors, and letters so your child will be ready for kindergarten in no time.
3. PAW Patrol My Size Lookout Tower with Exclusive Vehicle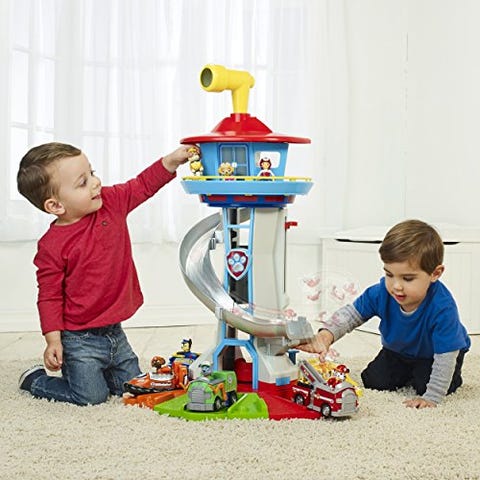 Your 3-year-old boy can help keep an eye out for trouble with a lookout tower that stands about as tall as him. At two and a half feet tall, this tower gives him the perfect perspective to observe all the action that goes on in the city. With just the press of a button, he can hear each character's signature phrase from the show. The rotating periscope at the top of the tower puts your child in charge of keeping the city out of danger by playing a firefighter, police officer, or construction worker.
4. eeBoo Life on Earth Puzzle
Yes, puzzles, in general, are great for this age. "Puzzles are a bonanza of skill development," says Terri Anderso, who taught in Madison, Wisconsin, elementary schools and was an educational consultant for school and library supply company Demco. "Turning and trying puzzle pieces in different spots develops hand-eye coordination and builds fine motor skills, strengthening muscles and coordination in hands. Matching colors and shapes as clues to where a piece fit hones critical prereading skills. And working on a puzzle with others is great cooperative play while completing a puzzle is a feat of problem-solving that gives children a sense of success.
5. The Sneaky, Snacky Squirrel Game
This easy-to-learn game is ideal for 3-year-olds because it involves no reading and no dice with numbers to count — instead, there's a spinner to flick on a colored wheel and matching acorns to pick up — yet it still fosters learning in a quick-paced setup, teaching about colors and improving fine motor control. Games like this also "teach the skills of sharing, turn-taking, and handling frustration when losing," says Dr. Sachs.
6. Educational/Splurgy Magna-Tiles
When toy historians look back at this era, Magna-Tiles will all but surely rank among the ten or 20 best toys of the time. And they'll probably still be popular a hundred years hence when instead of erecting sprawling, multi-story shopping malls, and parking garages, we'll be fashioning … whatever life looks like on some other inhabitable planet. Magna-Tiles improve fine motor skills, spatial reasoning, planning, and, when a structure collapses, resilience. Also, they're just great entertainment, even for adults. Maybe especially for adults.
7. Music Blocks
"Each cube can play six different snippets of music, depending on which side is up when you put it into the case. You can rearrange the blocks and turn them to build your own full-orchestra songs. Supercool."
8. The Green Dollhouse
A beautifully non-gender-specific dollhouse with much for grown-ups to admire: a solar panel, a wind turbine, and mini recycling bins, all made of sustainable wood. One Amazon reviewer who gifted this for a 2-and-a-half-year-old wrote that "when she saw this house on Christmas morning, all of her other presents didn't exist anymore." And: "It's also fun to point out and talk about the solar panel and wind power parts." And: "It's a great size, and she will get many years of play out of it."
9. Float & Find Alphabet Bubbles
"It's so easy for parents to get bogged down worrying about kids learning the ABCs when really the answer is to let them play with the alphabet," says Susie Allison, former teacher, mom, and creator of BusyToddler.com. And while, yes, 30 bucks is quite a chunk of change for what is ostensibly a bunch of floating pieces of plastic, something that's enjoyable, educational, and makes bath time easier is worth the spend. Allison adds that Float & Find is "a fun toy that kids can play with, imagine with, but is also exposing them to all their letters and building that familiarity."
10. ABC Learning Locks
These locks are perfect for a kid who is in the prereading phase but is hungry for mastery — they seem less like a toy than a tool that they can learn how to use. Little ones will spend hours matching key to lock ("The locks are very well made, and the keys are thick," an Amazon reviewer notes) and in the process locking in what each letter looked like in both upper- and lowercase, and also attaching a word to it (D for the picture of the dog, etc.)
11. Coding Critters Ranger & Zip
But Coding Critters is remarkably effective at introducing the basics of block-based coding, and it's a kit that many 3-year-olds can use largely independently. In a moment of fame for the item, Danielle Busby of TLC's OutDaughtered talked about how she loved having the kids playing with their Coding Critters in the hall — "chasing the balls and the yarn, just like they do with our actual dog." And they're actually learning to code in the process.
12. Brain Candy My First Colorforms Miss Weather Set
It's a classic that kids have always loved — slapping all sorts of different seasonally appropriate outfits for Miss Weather on the playboard — and still do. "Parents will remember them fondly," Magelof adds. Plus: "They are reusable." And when you consider that they're also great for travel, it's hard to do better for less than $10.
13. Kinetic Sand Bake Shop
"Between the building, rolling, and scraping, my whole family plays with [kinetic sand] for hours," says Allison. "It moves and molds bends and cuts in a way that is completely different from other sensory bases. It has a velvety smooth texture — it isn't gritty like sand. This isn't going to get in your toddler's eye as traditional sand will." TL;DR: "It makes for one insanely quick and easy kids' activity." Put another way by Zahra Kassam, founder of the at-home Montessori program Monti Kids: "It's like bringing the beach to your home — it's very sensory, creative, and peaceful. And less messy."
14. Gymboree Bubble Ooodles
Bubbles are fun at any age, but at age 3, most kids can start to do the blowing themselves. As for this writer's experience, I first saw these particular bubbles at our son's Little Gym class, which is telling, because they are made by a direct competitor of the Little Gym, the eponymous Gymboree. The viscosity of the formula allows dozens of bubbles with each blow — even if a child exerts too much or uneven pressure — and the bubbles don't immediately pop even on the ground, meaning lots of joyous stomping.
15. Blue Horse Hopper
"Bouncing engages almost every muscle group in a child's body, especially the legs and core," says Lily Belsen, a New York City-based yoga teacher whose clients range in age from newborn to 80. "It aids in vestibular development (spatial orientation and balance). In addition, rhythmic movement is organizing for the nervous system, so it's a great self-soothing and self-regulating mechanism. Also, it's just plain fun! I'm a big fan of the bouncy horse."
16. Switch & Go Dinos
"My kids loved Transformers," says Dr. Roberta Golinkoff, a professor of child psychology at the University of Delaware and co-author of Becoming Brilliant: What Science Tells Us About Raising Successful Children. While the action figures of our 1980s dreams still hold up in their own right, this Vtech version modernizes the concept a bit — a rocket-launching helicopter changes shape into an interactive velociraptor. An Amazon reviewer admits: "Now, of course, you have to listen to it say things like 'This is Blister, the Velociraptor, reporting for duty!' 'I'll never surrender!,'" but insists it totally worth the fun had by both the 4-year-old and the 21-month-old in the house: "At the moment, this toy achieves the award for 'most played with toy: 2019.'"
17. Smart Tech Engine Set With Action Tunnels
The best part about BRIO's Smart Tech line is that, unlike so many STEM or STEM-adjacent toys, they really are age-appropriate; 3-year-olds can figure out how to play with this smart engine in a matter of minutes and might be inclined to integrate it with their other train sets. What stands out more than its educational value, though, is the sheer entertainment kids get out of setting up a train track where the engine will complete a route, turn around, and stop at the child's prearranged transmitter arches.
Editor's Note: Although this exact 17-piece BRIO Smart Engine Set is out of stock, here's a smaller BRIO Smart Engine kit — with a train and tunnels — that is still available on Amazon, and should get to your doorstep before December 25.
18. The Original PlasmaCar
PlasmaCars promote plenty of outdoor fun (and this thing is sleek enough to navigate small space, too), getting kids excited and getting them moving — without any batteries or even pedals needed. They are great for exercise and let youngsters burn off some of that famous/infamous energy. And: "They're durable enough to make great hand-me-downs." As an Amazon reviewer who purchased one for a 3-year-old wrote, after giving the gift a personal pretest, "Super-smooth ride, easy to operate, and loads of fun for a 40-year-old woman! I can't wait for my son to open this on Christmas morning so I can play with it again!"
19. Touch and Learn Activity Desk Deluxe
This amazingly adaptable desk isn't a single toy at all; it's more like a dozen-plus toy in one. Kids can use it as an art center for chalk, crayons, paints, and more. They can interact with any of the five included interchangeable mats that feature varied topics like music, the human body, or the alphabet. And little ones can also just play around with buttons, lights, and sounds — not every minute of every day has to be about learning.
20. Little Tikes Inflatable Jump 'n Slide Bounce House
"This bounce house is a near-permanent fixture in our backyard," says Jamie Banks, a North Shore-based mother of three, who has hundreds upon hundreds of fellow fans in the Amazon reviews. "It is so easy to set up, and it gets kids excited to be active and to play out in the fresh air. The bouncing area is fairly big, and when they're done jumping, it folds up quickly and easily. Also, it pays for itself after two uses compared to the cost of renting one for a party."
21. Disney Frozen 2 Ultimate Arendelle Castle Playset
At the time of this writing, it's hard to say which specific Frozen II–related item will rise above the rest — just that, in the estimation of a seasoned employee of Boomerang Toys in Tribeca, this genre of merchandise is expected to be this holiday season's equivalent of last year's explosively popular LOL Dolls. (The new Frozen stuff will be "for everyone from 2-year-olds to the young 20-somethings who work in the store," the salesperson said.) A safe bet (if a very big one in terms of dollars) is Hasbro's Frozen 2 Ultimate Arendelle Castle set, standing a full five feet high, with seven different royally decorated rooms and an elevator that, when you touch the base, sets off a prismatic light show within the space.